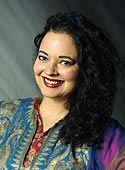 (Or click at left to email Toha for information about booking.)
At age 10, Toha (Sarah Jones-Larson) made her stage debut in New York's Lincoln Center performing Classical Spanish Dance with New York's Philharmonic Orchestra. Already adept on the castanets at age 12, she appeared in The Philadelphia Opera Company's Carmen with Robert Merrill and Joanna Simon. Currently also a popular bellydance teacher at the Cassandra School in Minneapolis, Minnesota, she is also a member of the professional belly dance touring group Jawaahir Dance Company.
"Sarah is an excellent and much-requested belly dance instructor. She has an extensive vocabulary of movement, exercises and vocalizations. She is proactive about presenting dance material in ways students find effective and fun. She works in many ways to increase the impact of her instruction, including research trips overseas.

"She is a dedicated artist, fine entertainer and excellent dance instructor, and a respected member of my dance company, Jawaahir, for more than a decade.

"She is admired and respected in by other instructors and dancers. She works well with and respects others, and always arrives promptly for performances, classes and rehearsals. She would fit nicely into any teaching staff environment."

- Cassandra Shore
Founder, Jawaahir and the Cassandra school
cassandr @ jawaahir.org
In 2008, the University of Minnesota Office of Measurement Services rated Toha above the 99th percentile as an Arabic Dance teacher (read testimonials). She has taught literally thousands of very popular and well-attended dance classes over the years at a wide variety of venues.
She danced with Philadelphia's Ballet Des Jeunes for five years, performing ballet, jazz, and Spanish dance throughout the New Jersey and Philadelphia area, with semiannual European tours.
At age 15, she joined Ecos De Espana in New York City, performing Classical Spanish, Escuela Bolero, Jota, Flamenco, and folk dances of Puerto Rico. She performed as a Flamenco soloist at The Sangria in Greenwich Village on weekends, and after completing high school in New Jersey, moved to Manhattan to pursue a career in dance full time.
"Sarah's commitment and dedication is that of a serious teacher. As an educator, she reveals a depth found in very few dancers of this genre. She has achieved an innate understanding of the principles of Middle Eastern dance.

"I am delighted to recommend her! She works well in an organization, using her professional bellydance company experience as an asset. Please feel free to contact me if you have any questions about Sarah."

- Habiba
Founder, The Habiba Studio
(215) 925-5436
611 S. Leithgow St., Philadelphia, PA 19147
Later, she danced with the ACT Studio Dancers in Denver, Colorado, and in Minneapolis has performed with Zorongo Flamenco and Theatre De La Jeune Lune. Toha joined Jawaahir in 1994, which inspired her to immerse more deeply in Arabic music and culture. In 1999, she completed two years of Arabic at the University of Minnesota, then spent two months traveling alone in the Arab world to practice her language skills.
In 2001, with Cassandra and other members of Jawaahir, Toha performed at the Second International Conference on Middle Eastern Dance in Costa Mesa, California. Later that summer, she made her Arabic singing debut with the Georges Lammam Ensemble in "Orientalia" in Minneapolis.
She has taught stage makeup for Oriental dancers for the Guild of Oriental Dance, at Oasis Dance Camp, regional workshops, and for individuals since 1994.
Toha is known for her grace, compelling taxims, and excellent technique, and is an expert on the finger cymbals. Arab audiences say she has the correct feeling for belly dance music.
In trips to the mideast, she has brought back costumes and products for dance students. She has presented dozens of educational talks on mideast family culture to schools and non-profit organizations.
"Sarah's very loyal following for her belly dance classes extended across several cities. Her warm personality makes everyone feel at ease and her students definitely have fun!

"Her teaching style is both professional and easy-going. Many of her students continued through several levels.

"I highly recommend hiring and working with Sarah! She was thorough when planning upcoming classes or administering current ones, and easy to work with."

- Allyson Rudy
Adult Programs Planner, Minnesota, District 112 · allyson_rudy @ yahoo.com
Outside of dance, Toha (under her birth name, Sarah Jones) is in demand as a voiceover performer. She has provided the voice on hundreds of commercials, training videos, telephone systems, and even a few computer games. She has also worked as a radio announcer in New York, Philadelphia, Denver, and Minneapolis/St. Paul. Her accomplishments in radio are detailed at voiceresults.com. Also, as an actress, she has performed on-camera or live for Comedy Central, 3M Medical, AMC Jeep, Theatre de la Jeune Lune, and others.
Her community involvement has led her to present dozens of educational talks on Mideast family culture to schools and non-profit organizations. Additionally, she co-founded New Reality Delivery for disadvantaged youth (with her husband) to teach group skills to adult volunteers, theater skills to youth, and provide targeted theater services for disadvantaged youth.
---
Student ratings of Sarah Larson, 2008. Course: Arabic Dance/University of MN*
| | | |
| --- | --- | --- |
| 99.07% | | Average rating overall |
| 100% | | I would recommend this instructor to other students. |
| 100% | | The instructor was well-prepared for class. |
| 99.07% | | I have a deeper understanding of Arabic Dance as a result of this course. |
| 100% | | My interest in Arabic Dance was stimulated by this course. |
| 98.15% | | The instructor presented the subject matter clearly. |
| 100% | | The instructor treated me with respect. |
| 96.30% | | The instructor provided feedback intended to improve my course performance. |
Q: What did the teacher do that most helped your learning? (Survey results)
Sarah was VERY attuned to her students' needs -- one of the best professors I've had yet! She always made sure to ask if anyone had questions, and sent out emails with reminders, directions and additional resources.
Sarah was very good at getting everyone excited and interested in the subject. My skills have greatly improved. She was always happy and willing to help if there were any problems. The environment was inspirational and fun and I intend on continuing my exploration of the dance. The class was highly enjoyable and I am very glad I took it!
I would strongly recommend Sarah as an instructor. She made learning Arabic Dance easy, fun and enjoyable. She broke down the dance steps in a very understandable way, and then taught us how to add more fluidity and style.
Sarah has an amazing variety of teaching methods. I especially loved saying the funny sentences out loud to help learn the different rhythms!
Sarah was a very thoughtful and experienced instructor who took the time to help every student individually. She often asked for feedback as to how effective her explanations were and if we could see and hear her clearly. She took the time to individually go over my movements with me and show where I could improve. It was always fun to attend every class, and I would love to take another class with her anytime!
She made it fun, and was very positive and patient. Always smiling. I very much enjoyed her class. She had much information about various cultures where this dance is prevalent as well.
She was a wonderful teacher. She demonstrated all the moves, helped us whenever we needed and would do moves along with us to help. I enjoyed the class and it was tons of fun. Sarah made the class fun and interesting.
She paused and carefully showed us the dance moves multiple times. She also explained where each move was from and explained why it was the way it was.
She had many different ways of explaining moves for all different types of learners. She was great! Very understanding, friendly and approachable. Provided lots of ways to make up classes.
Sarah made it clear it was NEVER a problem to ask questions and was VERY respectful and always full of energy!
Awesome instructor!! Would recommend her to everyone! Great experience with class! Helpful feedback, clear instructions.
She gave me personal attention and pointed out little things I could work on.
Sarah created a great learning environment. I loved this class! Very fun. The live music helped me learn, and the different ways of counting the steps out loud was good.
She showed, explained and directed and was fun, funny and informative!
I loved Arabic Dance! Fun class!!
She was great. She was willing to listen and re-explain things. She's a very good dancer.
I had a lot of fun! She paused whenever we needed it to explain more.

*As reported by the University of Minnesota Office of Measurement Services
with student questionnaires** totaled by giving answers the following values:
| | | |
| --- | --- | --- |
| 100.00% | | Strongly Agree |
| 83.33% | | Agree |
| 66.67% | | Somewhat Agree |
| 50.00% | | Neither Agree nor Disagree |
| 33.33% | | Somewhat Disagree |
| 16.67% | | Disagree |
| 0.00% | | Strongly Disagree |
**Highest and lowest values removed
---
"Highly competent, inspirational, wise, and compassionate, Sarah encourages and challenges students across all levels. She is a master teacher.
"She creates a safe and fun learning environment with humor and humility, and draws usefully on her experience presenting seminars nation-wide, developing fit-dance in fitness centers, instructing professional dancers and maintaining a demanding rehearsal and performance schedule.
"Her lifelong classical and ethnic and dance training and her knowledge of alignment and fitness principles gives her teaching the grounding, inter-cultural zest and style dancers are seeking these days, from beginner to advanced, fitness-dancer to professional.
"I value her work very highly for students of every level. Please contact me should you need more specific detail on her work."
- Karma Carpenter
LICSW, RYT · Professional yoga teacher, dance therapist · 971.241.7011